My two art teacher friends and I have been excited about this day for a while: what's not to love about a nice morning stroll at the Winter Park Sidewalk Art Festival, no kids, no pets, no students in tow, just us and an amazing array of 225 fine artists.
The parking, as always, was a challenge, and, since we had no luck at finding a free spot, we chose to park at the Farmer's Market where the fee was a donation to Boy Scouts. We met up early by the Leon Theodore school exhibit tents, checked up on our students' works, scrutinized the competing schools, oohed and aahed about the incredible talent that many of these kids have, and then headed over the railroad tracks to enjoy some professional art.
On the way there, we passed The Children's Workshop village where the area's museums and art centers were setting up to open the very popular crafts stations. They become super busy on weekends, with lines of eager kids and exhausted parents, but if you can be there on Friday, you will  most likely get to do all the projects with your kids quickly and tantrum-free. Check! I was taking my mental notes to do just that with my girls next year.
My girlfriends and I enthusiastically dove into enjoying an array of amazing art. We stopped in many booths to say hello to artists that we knew or to give compliments about never-before-seen art that was too striking to pass by. There were artists who only had 6-7 large, wall to wall pieces in their booths with prices that just a small percentage of our population can afford, but we were also happy to see many artists offering smaller, more affordable and budget-friendly items. My friend bought a beautiful original lino cut print for only $20.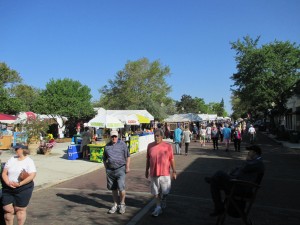 Less than half-way through the show, our pace was slowing down, and a visual stimulation overload was starting to set in. It was time for a lemonade break, after which we kept encouraging each other to stay with it and finish looking at ALL the tents. Truth to be told, if I were alone or with my family, I might have found an excuse to leave at that point, but there was no loosing face with my art colleagues! The three hours passed by in great conversation and sensory enjoyment. It was also nice to see many people walking with wrapped art purchases on the very first day of the festival. Right before noon, our noses felt the teasing smells of food vendor goodies, and it was time to head home before we spent all our spring break budget at this place! We were exhausted…but I bet we will do this again next year!