If you live in Florida and haven't had a chance to check out Miami, I highly suggest it. It's the closest thing to leaving the country without actually crossing the border. Its mix of Cuban, Latino, and Hispanic cultures make it far more interesting than roughly 80% of the country, which pretty much resembles Semoran Blvd.
In Miami, the Cuban influence trumps all, and it's pretty damn sexy. The music, the limited clothing, the hip-rolling dance moves – sexy. You know what else is sexy? Fried Pork and high-octane concentrated coffee.
I fell in love with Cuban food from the first bite, because yes, FRIED PORK. It's been a hard sell for my vegetarian wife as most Cuban spots don't acknowledge the veggie way. Here, have half a pig, they say — you'll change your mind about that whole "not eating things with faces" deal.
Black Bean Deli on E. Colonial is roughly 200 miles from Miami, so with a bit of distance we get a more with-it menu in a casual, yet sleek and sophisticated atmosphere. Order at the counter, find a seat (either in or out, they have both) and wait for the glory.
The menu isn't overwhelming, but the key pieces are in place: croquettes (lightly fried fingers full of flavor), empanadas of several varieties including a vegan option (the ropa vieja was juicy and remarkable), Cuban sandwiches (obvious and necessary), picadillo, and all the beans and plantains you can handle.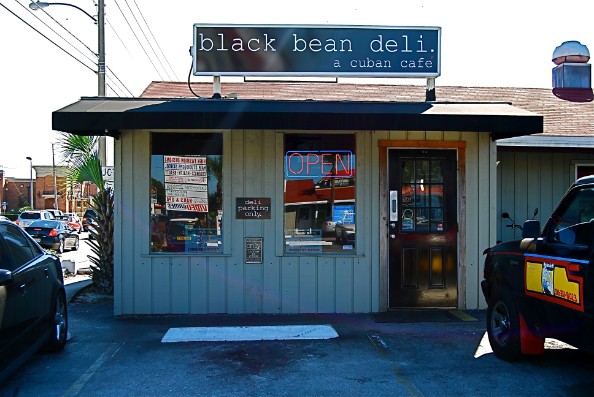 Portions were more than satisfying. My party of three got stuffed on less than $40, including a couple of sides and a dessert. Be sure to order fried yucca for the table – the cut up chunks were huge and ridiculously good.
Finish it off with some rocket fuel – Cuban coffee — and you'll be ready to build a house with your bare hands. Let's see your silly Starbucks give you that kind of power.
There's two Black Bean Deli locations: E Colonial and Winter Park. Their newest location, E Colonial is much larger and perhaps better for that meet-up with friends before heading downtown, a no-pressure first date, or when you are looking for that elusive combination of casual, quality, and inexpensive.
Black Bean Deli: A Cuban Café
Orlando location:
1835 E. Colonial Dr.
Orlando, FL 32803
407-203-0922
Monday thru Thursday 11a-9p.
Friday & Saturday 11a-10p.
Closed Sundays
Winter Park location:
325 South Orlando Ave. Suite 1-1.
Winter Park, FL 32789
407-628-0294.
Monday thru Friday 11a-8p.
Saturdays 11a-5p.
Closed Sundays
Photo Credits:
Platter: Facebook.com/blackbeandeli
Façade: http://blackbeandeli.yolasite.com/