My cellphone rang the other day and it was lunchtime, it must be Dave I thought. Sure enough, Dave was calling to invite me out for a lunch meeting, we would discuss business over a hot meal and today I was in luck, Dave was treating to pizza, and not just any pizza, Broadway pizza. 

I don't recall when, exactly, I had my first meal at Boardwalk, I know having their subs delivered was a common occurrence for my friends and I in the mid-90s, so it's been nearly 20 years. Not long ago they moved into the Publix plaza on University and Goldenrod and they have been a regular dine-in lunch location ever since. I have to confess, I fell in love with their wings as a dine-in favorite, which is a bit of a sin given the assortment of classic Italian dishes they offer, but the lunch wing special is so hard to turn down that I rarely find the strength.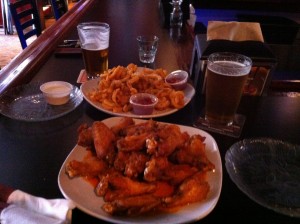 Today though, we were sharing a pizza, mushroom pizza to be exact, and it was delicious. I'm not a pizza expert but for my two cents, the crust and sauce is where otherwise decent pies go wrong, they try to be fancy and end up overwhelming their toppings.  The crust here was thin with a hint a chew to it, not bread like at all, and cooked just right. The sauce was present but not overwhelming, neither too sweet nor too acidic. So the bases were covered. The cheese was creamy with some pull, but not stringy, it could, perhaps, use a touch of salt, but was otherwise fine. The mushrooms were the star; they were fresh, sliced thin but not paper thin, so they still had some bite, and they brought a definite earthy, mushroom flavor that you do not get from canned, pickled mushrooms often found on sub-par chain pies.
Boardwalk has always balanced a family-friendly dining room with a sports bar-ish main bar and surrounding booths. We often eat our lunch at the bar, as we did on this trip, and if you're going to go that far you might as well have a cold one to wash your meal down. They have a solid selection on tap with several offerings rotating in and out on a regular basis, so I always ask about specials and new arrivals. Today we opted for a classic, Stella, served in the iconic Stella glass.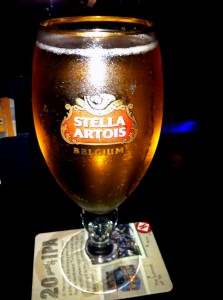 I am not sure when I will make it back to Broadway, it certainly won't be long, but I am tasking myself now with revisiting the rest of the menu, though the wings and pie are excellent, I have neglected the pasta and cutlets far too long. For now though, I can heartily recommend the wings, pie and frosty tap beers at Broadway Ristorante and Pizzeria.