As a native Floridian traveling to NY many years ago, I was surprised to find, at 6am, hot coffee and fresh bagels being sold on the street corner right in front of my hotel. I took a chance and indulged in the unexpected breakfast and both the coffee and bagel were excellent, and were had for $3 total. Competition can be a beautiful thing. I later observed the fresh bread trucks making deliveries to these vendors every morning around 4 am, don't ask why I was up, but that fresh delivery explained allot.
However, with the very notable exception of New York City, I have not been able to find a quality, convenient, bagel since leaving South Florida, where great breakfast delis can be found in nearly every shopping plaza. To be sure, there are good bagels to be had in Orlando but they have not been convenient for me until the new Brooklyn Water Bagel Co. opened up down the street from my office in Winter Park.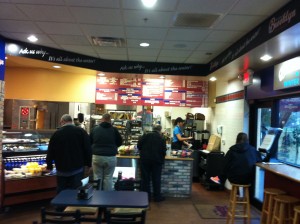 Found in the Publix plaza on the corner of University and Goldenrod, I recently stopped into Brooklyn Water Bagel Co. for a breakfast meeting and enjoyed a toasted everything bagel with scallion cream cheese and a cup of coffee.  The cream cheese was tasty as was the coffee but the star, of course, was the bagel, and more specifically, the texture of the bagel.
I've never even tried to make a bagel from scratch but apparently it is very hard to get that right level of firmness, of chew, that is the hallmark of a great bagel. Too often, bagels around town, or nearly anywhere outside of South Florida or NY really, are a soft, bready  mess.  That is not the case here, the bagels have the right texture, the right flavor and are made fresh on site. I don't know if the trick is really in the water, as the company (Brooklyn Water Bagel Co. is a chain with many franchise locations) professes, but whatever it is, they are doing it right.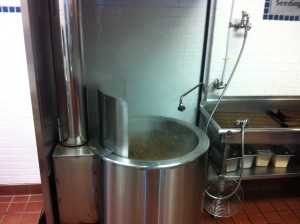 They also sell sandwiches, juices and an assortment of classic deli baked goods, including a cakey black & white cookie that my friend reports is fantastic, especially when dipped in coffee. The space is small but efficient, there are tables and counter space for dining in and the whole room has a bit of a hip feel to it, with an extensive coffee and soda bar and sleek modern décor.
Overall, Brooklyn Water Bagel Co. is a simple, fast, delicious, and convenient breakfast deli, just what I've been looking for all these years.