Out with the old and in with the new, the Citrus Bowl will no longer be referred to as the 'Citrus Dump'.  Today marks the start of the massive renovation project that will bring the 70+ year stadium to the modern era.  85% of the stadium will be new after the completion of the renovation project.  They will bring in an entirely new lower bowl, new luxury suites, and modern concession stands.
I've been going to the Citrus Bowl since I was a child and the images of the urinal troths, the cracked concrete supports, and uncomfortable seats were always the lasting images I had when I would go.  It's not to say that the old gem hasn't had a few highlights.  Citrus Bowl played host to Word Cup soccer games, Wrestlemania, and years of college football games.  The old bowl had it's swan song this past weekend to a sold out crowd during a monster truck rally, which seemed fitting.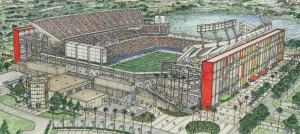 The new Citrus Bowl will still host the annual Capital One Bowl & Russell Athletics Bowl, as well as be the home field for Jones High School football.  They also hope to draw much bigger events like neutral field college football games (Notre Dame has showed interest), the College Football Playoff and National Championship games.
So I bid you a fond farewell old Citrus Bowl, I will always remember you and the XFL games you hosted, and the many many drunk redneck fans that have sat in your seats.