My daughter and I continued our exploration of the Cross Seminole Trail recently with a trip to the Black Hammock trailhead, located just a hair west of S.R. 417 on S.R. 434. This stretch of the mixed use trail is in excellent condition, pristine even,with a variety of scenery and settings.  The trailhead provides restrooms, a water fountain and plenty of parking. There is also a bike shop, Adventure Cycling, and a convenience store within walking distance of the parking lot, making it a fantastic spot to cycle with the family.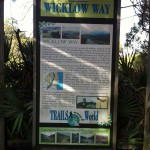 The trailhead is essentially in the middle of the trail and soon after leaving the parking lot you are presented with two options, right (north-ish) or left (south-ish.) I have only explored left for a short distance, maybe a mile and it was nice enough. That said, I recommend going right, for the highlight scenery. While the trail winds through the back of neighborhoods and crosses a couple of streets, it is nonetheless bordered by trees, flowering plants and even a stream.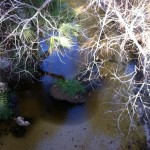 The first highlight is the bridge, while it is in great shape and may even be a fairly new structure, it appears like an old, covered wooden bridge. There is seating here and great views on either side. On this trip we saw a bird fishing in the stream and spied wild oranges growing in the hammock.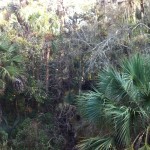 The second highlight is the exact opposite experience; there is a crosswalk running over 434 and it is huge, or very elevated anyway, which, despite overlooking nothing more than traffic, makes for fun viewing for the kids. It is also provides an extra fitness challenge, though I believe you are supposed to walk your bike across.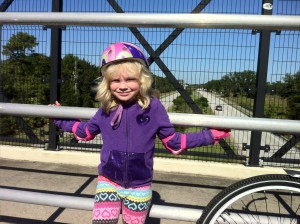 Obviously, one should keep in mind when riding a trail that you will have to turn around and ride back at some point. The trail has mile markers but I did not keep a  close watch, so I'm only guess when I say the crosswalk is about 2.5 miles from the parking lot. We actually pushed a bit further but essentially turned around at the crosswalk, making for a healthy 5+mile roundtrip, enough to break a sweat but not totally exhausting for young riders. Overall, this is a great stretch of trail and more family friendly than some others, I recommend giving it a try.