Somehow, I slept in on Sunday morning, until nearly 8am, which is a record since the kids were born. I awoke to the sight of my eldest daughter placing a plate of chocolate chip pancakes w/ strawberries on the bed and a cup of coffee on the side table. With mom's supervision, she had made me breakfast in bed. Wow, I am a lucky man.
After greedily woofing down that sweet, and highly caloric, breakfast I offered to reward my daughter with a trip anywhere she wanted to go. Luckily, she chose to go on a bike ride and wanted to explore a new trail. We decided on the Spring Hammock Preserve which is located just off of S. R. 419 in Longwood (near U.S. 17-92) and is a part of the Cross Seminole Trail. The decision lead to a delightful and invigorating trip through a stretch of old Florida.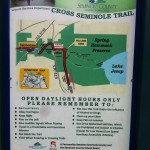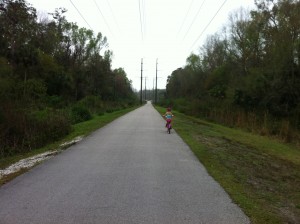 This being our first time to this part of the trail, I did not realize going in that this is actually a collection of mixed use trails. On this trip, we explored parts of Osprey Trail and Robbin Trail, or at least I think that's what we did. We parked at the Nature Studies Center, the parking lot essentially runs into the beginning of a wide, paved path that is part of the trail proper.
The paved portion here was rather short, I am not sure if this is due to construction or is this is just how the trail is but, leaving from the nature center,  there is barely enough trail to break a sweat. Still, the trail is in great shape and despite running directly under power lines, has its scenic moments. The star here, for us anyway, were the unpaved nature trails.
As you would expect, these trails take you through old Florida forrest and swamp lands. The first stretch of the trail is hard packed sand and while it is bumpy at times, is an easy enough ride. The trail winds along a running stream and contains numerous boardwalks and even a pavilion not too far in. It really is beautiful and on our later winter ride we were not overly bothered by mosquitos, though I imagine they get pretty thick once the weather warms up.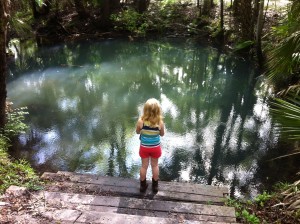 From there the paths get narrow and muddy. We ventured onto what I believe was Robin Trail and found ourselves pushing our cruiser bikes much of the way, occasionally pulling over into the brush to make way for an adventurer with a proper mountain bike. This part of our trip contained some of the best scenery but we also encountered fallen trees, ankle deep mud puddles and we warned about the very real possibility of encountering water moccasins. I'd say this portion is a fairly difficult level ride.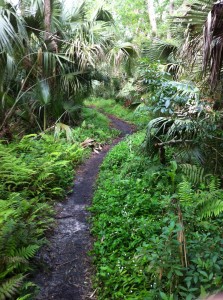 Before too long though we emerged back onto the paved trail and it was smooth sailing back to the nature center. We spent close to two hours cruising and walking our way around Spring Hammock  which not only showed us some great scenery but was also enough to burn off a few of those breakfast pancakes.  I plan on taking the rest of the family sometime soon.