The term Old Florida can mean many different things, from moss covered fishing camps deep in the Everglades to pink flamingo adorned hotels on US 1, but an hour or so north of Orlando, in De Leon Springs, we have some of the very oldest Florida. You've surely heard of the springs, the deep, cool spring waters have been used by humans for not hundreds but indeed, thousands of years. For quite some time now they have been better known by their popular title, the fountain of youth. My grandmother took me to the springs as a child; I recently introduced my family to the fountain and we had a great time cooling off in the mythological waters. 
De Leon Springs State Park, which now houses the springs, is a great place for a family day trip. The namesake springs are, of course, the star attraction. You can take a refreshing dip in the 72 degree water by either using the several sets of stairs that lead to shallow swimming areas or take the more shocking route and jump from the diving platform into the immensely deep spring itself. Either way, be prepared to cool off quickly because the water stays a steady 72 degrees year round, well below the 85 degrees many of us consider an ideal pool temperature. On our trip, my wife refused to enter the chilly water despite the scorching Summer heat we were experiencing, then she learned of the springs reputed youth restoring properties and she joined the rest of us, thoroughly enjoying the brief swim.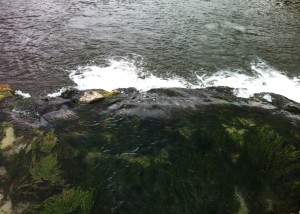 The second most popular attraction at the park is the Sugar Mill restaurant known primarily for their unique make-your-own pancake experience which offers dozens of tasty flavors of pancakes. The little cakes are so good, and the table side cooking so fun, that even locals come and queue up for hours. They do have other items on the menu, including lunch items, some of which you can pick up at a take out window. If you want to sit down though, get there early or at least put your name on the list well ahead of when you want to eat, there is nearly always a wait. On our recent trip, we chose hot dogs from the take away window and ate them at one of the many picnic tables.
You can also explore the adjacent lake in canoes, paddle boats or on guided river boat tours. We rented a four-person paddle boat for an hour and had a good time exploring the lake, observing water birds, jumping fish and local fisherman.
The drive from Orlando is about the same as going to an east cost beach, so not too bad. If you haven't been, or if it's been a long time, I enthusiastically recommend making the drive.