Sometimes good things come in small packages and that is certainly the case with Dew Drop Park in Casselberry. This little park is tucked away deep in a Casselberry neighborhood, practically hidden between homes, and if you don't live on the block you would probably never know it is there. But it is a hidden gem for those lucky enough to be nearby.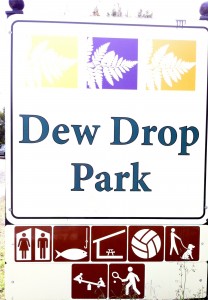 The tiny entrance, barely wide enough for a full sized vehicle, is a bit deceptive, not betraying the wealth of facilities within. The park sits on Dew Drop Pond, which is an attraction in and of itself, you will often find local children fishing the pond, following the many turtles that call the pond home or simply skipping stones. There are also multiple playgrounds, including a somewhat unique playground geared toward teenagers. There is a covered pavilion that plays host to fairly large parties and plenty of room for picnics in the grass.  For those looking for more active exercise, the park has a sand volleyball court, tennis courts and  half-court basketball. There are also fully built out bathrooms near the entrance.
The park seems to be well maintained and is another example of Casselberry making quality of life investments through its parks.  I happen to have a friend who lives in the area and while I would not quite go so far as to recommend a drive to see the park, if you happen to live between Seminola blvd. and Red Bug Lake rd, and certainly if you're in the Sterling Park area, it is a great place to take the family for some fresh air and wholesome fun.
 For genuine neighborhood park fun, I give Dew Drop Park a 7/10