[Note – we are re-running this article, it was first published in February of last year]
Today, on my first trip to a Fresh Market, I made two mistakes, I took a hungry, candy-crazed six year old, and I took her three year old sister. Despite telling myself I was only going to see what all the fuss was about, this was the grand opening of the Winter Springs location, I still walked out with some fresh bread, yogurt covered pretzels, licorice and candy coins. An unlikely haul given the abundance of fresh and gourmet offerings but the girls would not be denied.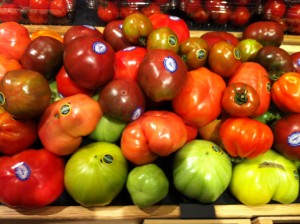 Attendance was heavy and the lot busy but parking was no trouble, even in my full sized pick-up. I was not really sure what to expect, I thought Fresh Market's were more like a fruit stand but instead they are nearly a full blown grocery store, though they seem more focused on food than a Publix or even Whole Foods. Fresh Market does have an extensive flowers section and some medicines and such, but not as many paper goods or house hold supplies.
Now, it was the grand opening and displays was done up just so, and I went feeling hungry myself, but everything certainly looked fantastic. The produce was bright and fresh, the stands were all polished and even the display glass was clean and clear.  The air was filled with the smells of baked goods and the pan fried carb cakes being sampled. There were several other sampling stations, including california rolls made on the spot and an array of fancy olives. This made for a fun and tasty exploration of the shop.
There is a large deli in the center of Fresh Market which, on this visit, was heavily staffed, so wait times were short for the numerous shoppers saddled up to the counter-in-the-round. There are also a few self-serivce bars, including a salad bar, an antipasto bar and an interesting seafood bar. There are binned grains and sweets aplenty and a well stocked wine section.
I escaped this visit with a single bag but with all the gourmet prepared food, and lots of interesting new products to investigate, I will definitely be back for more Fresh Market.