I recently stopped in for a lunch meeting at HotDog Heaven and was reminded why I love the place so much.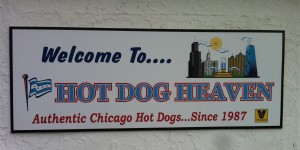 There is something about simplicity that I find almost magical. When you really understand something, you can break it down to its essential elements, simplifying whatever it is that your understanding centers around. Sometimes, rarely, people understand how to run a restaurant.
The folks at HotDog Heaven have their business completely and utterly dialed in. I know it's just hot dogs, but they totally nail the whole experience.
Its counter service at HotDog Heaven, so step one is to stand in a line that is usually just long enough to ponder your order. After ordering and paying you're handed a drink; seconds later, your hot meal, now go grab a seat. I almost always sit outside at the covered patio space. When you're done, return the trays and you're off to your next destination.
I don't eat here all that often, and I struggle with the concept of opportunity cost, so I over indulge when I do go. My usual is a "regular Chicago dog, loaded" and a "regular chili-cheese dog, no beans, no onion, no mustard" along with a basket of fries and a large root beer. There are a fantastic number of options and combinations you can choose from, I explore the menu often just to mix it up, but this meal has a good mix of flavors and textures.
It is hard to explain why this is so good. I don't care for hotdogs all that much, at ball parks maybe. The only thing I can guess is that there is something special that happens when your refined approach begins to near perfection. You produce a "satisfaction multiplier" that makes everything seem special. That, or its the fries, the fries are spectacular.
The people are great too, HotDog Heaven is a family run business and they never fail to give you a warm "hello, how's it going?" while you wait the 30 seconds for your meal to be prepared to order, right in front of your eyes.
Depending on how hard you hit the rush, and if you opted for a malt that you linger sipping, ia trip to HotDog Heaven is between a 10 min and 30 minute experience. My usual meal runs $12 but reasonable combos put you out the door for much less, $7 gets you a satisfying meal.
If you aren't already a fan, I definitely recommend stopping by HotDog Heaven, it is a genuine Orlando experience, high on my personal list of favorites.
Hot Dog Heaven
5355 E. Colonial Dr.
Orlando, Fl 32807
1/4 Mile West of Hwy. 436
(407) 282-5746
Hours
MONDAY – FRIDAY 11-6
SATURDAY/SUNDAY 11-5