[Republished from 2014 – there is a new ICE! show worthy of your attention!] When my daughter, a second grader, came home with straight A's we were obviously very proud of her efforts. At her school they also reward good performance with a free admittance to ICE! at Gaylord Palms, an annual event we very much enjoy, so our excitement grew.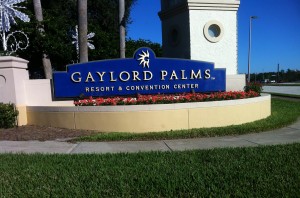 If you haven't been yet, the ICE! event at Gaylord Palms is a real treat, especially for Floridians, and even more so for children born in the never-snowy Sunshine state. The folks at the hotel bring in ice carvers China, from a town where they have long held ice carving celebrations every winter, highly skilled artisans who do amazing stuff with blocks of frozen water. The hotel then blocks off part of their convention center, brings in huge amounts of cooling and drops the temperatures inside the hotel down to 9 degrees!  This all sets the stage for a spectacular wonderland experience.
For this trip, we, like most folks, bought the tickets we needed online so once we entered the hotel we found the ICE! entrance line and queued up. We were there for the first show, 10 am I think it was, and we were a few minutes early, so it wasn't long before we were ushered in to the screening room. We then watched the informative pre-show and after that received the parkas that the hotel provides guests so they can stay somewhat comfortable on their trip through the frigid display.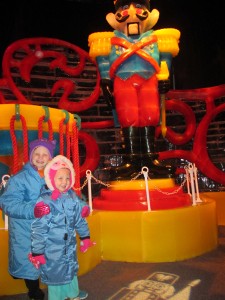 We then entered the show itself and began taking in the giant, intricate ice sculptures.  The show theme is different each year, this year the theme is the Nutcracker, but there are always several rooms of display around a theme. Many of the sculptures use many colors and are beautiful to behold. You are also treated to a room with an active sculpting display, so you get to watch an artist at work and see the cool tools they use.  The real treat though, for most folks, are the ice slides. They are exactly what you think, large slides made of ice. Younger children can take a smaller slide and use a mat to get down the slide. It is a blast and underscores the physicality of the experience, the opportunity to truly chill out and have some fun.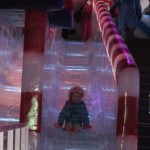 Overall, I really enjoy ICE and recommend it. There are some things to keep in mind though. Getting to Gaylord Palms can be a bit of a chore, it is on the far south end of IDrive, parking is a bit steep at $18 and full price tickets are $20+. The main experience, the time spent in a parka, usually takes us about 30 minutes, so it is on the pricey side. But we make a day of it, check out the rest of the gorgeous, heavily themed hotel and then go to lunch. We also don't do it every year, still, it is a good time and a really you should do it at least once.