Kids Fringe has been a part of the Orlando Fringe for a few years, but it wasn't until past Sundaywhen my girls (ages 7 and 3) and I went to check it out.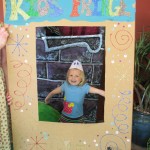 The stigma of difficult parking sapped my neighbor's enthusiasm for joining us, but I felt up for the challenge. I prepared by studying the Fringe web page with detailed parking options, and followed their suggestion of a free business-donated parking lot off Orlando Ave that required a stroll across the bridge on Lake Formosa. When pulling in, I was pleasantly surprised to find an abundance of parking spaces, and the stroll to the event was short and scenic.
The girls and I spent over two hours at the Kids Fringe. The abundance and variety of activities from shows to crafts and interactive play areas made the experience fun. It was easy to access everything, so no waiting and whining…a big bonus for a parent's sanity! My younger one loved the bounce house, the older one was into crafts that required more patience, and they both loved the Boardwalk Kids Theatre dress up area where they could transform themselves with costumes, wigs and other fun accessories. I had to drag the girls out of there!
We were lucky with a cooler than usual weather on that day, but for higher temperatures, keep in mind that most of the stations are strategically located in the shade of the beautiful oak trees…we marveled over the 400 year old majestic Mayor tree while having an ice cream break.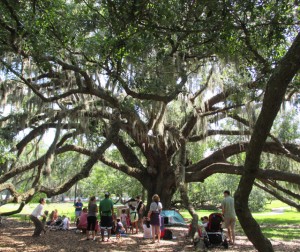 Speaking of vending, I was pleasantly surprised that the event didn't have an array of expensive knickknacks  that kids would usually beg me to buy, so melt downs and tantrums were avoided! There was and indiscreet stand with snacks and drinks and one ice cream truck, all reasonably priced. The trip cost me $5 for the girls' ice cream, not bad for a few hours of fun!  We will be back next year!