Look at that slice of pizza. That isn't camera tomfoolery trying to trick you into thinking that it looks like a huge slice of pizza. It is a huge slice of pizza. This is what the people at Lazy Moon Pizza do every day.
When you live in Florida, a state that prides itself in building an endless army of shopping plazas, you get pretty used to not recognizing new places hidden within these centers of commerce. When you're like me, you're already used to the fact that the scenery of certain parts of town (like the UCF area) leave little to the imagination. So you just drive to and from wherever you are going without taking a closer look at what might exist around you. I've started to learn that this sort of thinking and observing is a mistake.
Lazy Moon Pizza sits off of University Blvd. just a few blocks down from the University of Central Florida. All signs point to it being a very college-student driven environment, but don't let that turn you off. Lazy Moon makes not only a solid slice of pizza, they are also very bargain friendly and cater to any budget.
For just around 5 dollars, you can get a slice of cheese and an award-winning pint of PBR. Look at that slice again – it's not like you would need that many of them to fill yourself up.
I go to Lazy Moon at least once a week and order the exact same thing – a slice with jalapenos, a PBR, and a small caprese salad. This is more than enough to fill me up – no matter how hungry I am – and the staff is usually nice enough to break the salad in half so I can split it with my significant other.
This picture below represents what my plate looks like when I start getting full.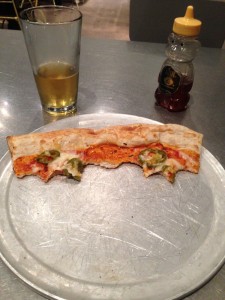 To describe Lazy Moon's simply unique style of pizza would be easy. It's not a thicker style of pizza. In fact, the pizza is quite thin, and the sauce amount is light. But for this style of crust (which goes great with the honey when you reach the end of the slice) works well for the amount of ingredients they put on it.
Are you the kind of person who likes to hold their pizza slice and fold it in half? Lazy Moon's slices may provide a challenge for you, however, as they are big. These slices are best started with a fork and knife.
They have a pretty fantastic variety of specialty slices as well. One of their top sellers – Jason's Mom's Slice – includes blue cheese crumbles, buffalo chicken and sauce, and baked ranch. They also have soups and calzones for those not interested in pizza.
Since this place is located so near to UCF, don't be surprised if most of the people filling seats are students. But don't let that turn you off – the environment is super friendly and makes for a great evening with friends. They do have walk-up service (you have to go to the register, order, and then seat yourself as you wait for your food to arrive), so you don't expect full service. Regardless, Lazy Moon understands what makes this experience work (by allowing their female staff to take your order, while the guys – mostly sporting beards – do the cooking).
Perhaps my biggest regret this year is not having utilized their to-go services for a Super Bowl event. They sell pizzas that could feed an army of friends. Seriously, they sell a 30-inch pizza. That's over 2-feet of pizza. You might have to rent a truck to bring it home.
You'd be the talk of your clique of friends if you showed up to an event with one of these bad boys. And isn't being the center of attention, even if for just a little while, a great feeling? Let Lazy Moon help you gain that notoriety.