If you've ever craved Cuban cuisine while around a group of friends or family who crave Mexican, and find that you're always out voted, then this is the review for you. At an affordable price (I usually spend $25 with a drink or two added on), with surrounding décor and music that will please both you and your opposites.
Maria Bonita is a little misleading during the day. I passed by for several months thinking it to be a closed down establishment. But when the sun sets and the colorful neon lights shine bright, there's no denying that they're open for business.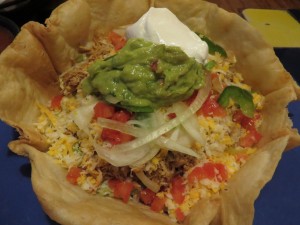 I've tried several dishes and always seem to go back for the Taco Salad with shredded chicken. Although big enough for an entrée the Taco Salad is listed under Salads, or Mexican Lunch Specials during the hours of 11:30 AM to 3 PM Monday through Friday. The Taco Salad comes served in a large corn tortilla bowl layered with refried beans, lettuce, tomatoes, cheese, onions, peppers, sour cream, guacamole, and of course the shredded chicken (if you prefer ground beef instead, they offer it!). The flakiness of the corn tortilla is unbelievable. I'm assuming it's fried, but who cares! It's perfectly made, never burnt, and actually has a nice flavor compared to flour tortillas. Be aware that the refined beans do sit at the bottom. Expect sogginess when you reach the end of your meal. Unfortunately, this last time is the only time I've experienced superb service. I obviously keep going back for the food and drinks, not the wait staff.
Though I love my margaritas this isn't the place for them, in my opinion. Don't get me wrong, they have very tasty margaritas, along with great happy hour specials, but they make a mean mojito! I've only frequented one other restaurant that made a "to die for" mojito. Maria Bonita comes in second.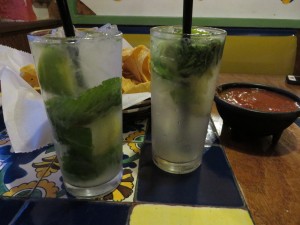 Some of Maria Bonita's popular specials are: $1 House Margarita Mondays (4PM to close with a dinner purchase), $2 Taco Tuesdays, $5 Burrito or Enchilada Wednesdays, and $7 Chicken Fajita Thursdays.
Maria Bonita is located in Orlando on East Colonial Drive. They serve both lunch and dinner, and offer a special catering menu for any occasion.
Maria Bonita
10615 East Colonial Drive
Orlando, FL 32817
www.mariabonitarest.com
(407) 282-1411