Meredith Manor, located on the shores of Lake Brantley, is richly steeped in local history.  The original and subsequent owners, and famed architect, served as major contributors to the development and success of Longwood and Altamonte.
Longwood was named after an attractive suburb in Boston, by Edward Warren Henck. Local lore suggests that Henck feared "upper crust new Englanders" would be skeptical of the rustic sounding "Myrtle Lake." Boston's Longwood took its name from a 600-acre estate owned by David Sears. About 1840, Sears acquired his estate at Brookline, naming it Longwood. The community Henck helped develop on the estate land, adopted the name related to Napoleon Bonaparte. Longwood was the exiled French emperor's home on the island of St. Helena, an English colony more than 1,100 miles off the African coast, after his defeat at Waterloo.
The success of Longwood and Altamonte in the late 1800s is based on two major industries; tourism and citrus. Florida beckoned wealthy northern residents to its amiable winter climate throughout the state.  Ultimately, the success of the Longwood/Altamonte area would be determined by the availability of transportation.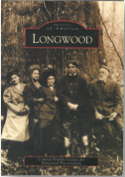 In the early 1880's, Longwood's founder, Bostonian entrepreneur Edward Warren Henck, began searching on horseback for a railroad route that would link Sanford and Orlando, then mere trading posts. Henck determined the best route and The South Florida Railroad was incorporated in 1879 by Henck and his partners. Another well-known railroad builder was Russian immigrant Peter Demens, who arrived in 1881 and built the Orange Belt Railway linking Sanford to Tampa Bay in 1886. The opening of these railways began bringing winter visitors to Longwood's hotels and seasonal cottages. Year-round residents found investments or employment in lumbering, citrus and turpentine businesses. By 1887, Longwood's population topped 1,000. By the end of the 1800's, Longwood had five churches, three hotels, eight stores, and a weekly newspaper.
Another entrepreneur attracted to central Florida, was wealthy Bostonian Carlos Dyer Cushing. The Cushing family history has been traced back to 1066. Carlos descends from Matthew Cushing, born 1588 in Hingham, Norfolk, England. Matthew was a wealthy nobleman who embraced the Protestant faith that ran afoul of Anglican Archbishop Wren who persecuted them for their beliefs. Matthew and his followers sold their properties in England for half their real value (the Cushings were allotted 42 mansions and estates in Norfolk County for aiding their cousin William the Conqueror/King William I at the Battle of Hastings in 1066), and fled to Hingham MA in 1638 aboard the Diligent. Amazingly enough they were still very wealthy upon arrival. Not much has changed since then. Many doctors, lawyers, judges, clergymen, politicians, entrepreneurs and military men have come from the Cushing family that all had an integral part in shaping this great country of ours.
Following suit, Carlos saw the opportunities offered in developing the Longwood/Altamonte area. Carlos brought his new wife, Ella F. Richardson, to Longwood, where he built Meredith Manor on the shores of Lake Brantley 1880.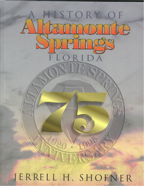 Carlos and his wife Ella were very involved in the community and leave behind a legacy of history. As an entrepreneur, Cushing immediately sought opportunities to increase his wealth and turned his attention to the railways. The Florida Midland Railway was conceived by John Butterick, another Bostonian, but was financed by Carlos Cushing and other partners. Construction on the railway began in 1883 and first was opened from Longwood to Apopka in 1886 and reached Ocoee in January 1887. Its first two stations west of Longwood were Altamonte and Lake Brantley. It later extended to Kissimmee by 1892.
Later, Carlos Cushing invested in Henck's hotel while it was under construction. Henck invested about $15,000 in the two story, 38-room hotel but later sold the hotel to Carlos Cushing at a loss. The hotel opened in 1886, with Cushing listed as the proprietor of The Waltham Hotel, but it is better known today as the Longwood Hotel – the same one the city is using as the new City Hall.
Although they were spread over a sizeable area, Altamonte had both schools and churches. An excellent example of late nineteenth century church architecture is the Lake Brantley Union Church. Construction on the church was started in 1882, when Ella Cushing induced her husband to start the project. Ella oversaw raising funds to build the church and obtained most of the donations from wealthy Bostonians in the area and back home. The church was built on land donated by George and Louise Lewton and was completed in 1885. Although the Lewtons retained title to the land, the church was managed by a trusteeship composed of Carlos Cushing and Walter H. Hunt. After the hard freezes of 1894 and 1895, the church was abandoned and fell into a state of disrepair. The church was later moved to its present day location in Altamonte Springs and restored. The church continues to hold services to this day and serves as a reminder of Longwood's humble beginnings.
Much of the success of the Longwood area also lies in the skillful hands of famed Boston architect, Josiah B. Clouser. Clouser's talents were much desired by the local wealthy upper class to build their winter homes. He relocated to the area without his family and began building numerous homes and businesses.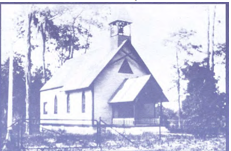 Clouser was hired to build what later became known as Meredith Manor, which was completed in 1880. His unparalleled craftsmanship remains one of the main attractions of the historical home, and it is one of the few historical homes used as a private residence to this day.  The home features a Victorian central hall design, with a sweeping and impressive self-suspended stair case. The home was constructed from the highly desirable Heart Pine wood, due to its strength, durability and termite resistance (termites do not like the turpentine taste of the wood). So impressed with his skill and craftsmanship, Ella Cushing commissioned Clouser to also construct the historical Lake Brantley Union Church.
After spending most of his time in Longwood, Clouser moved his wife, Elizabeth, and family, including a teenage son and daughter, to Longwood in November 1881 from Pennsylvania. Clouser's reputation was unmatched and he soon found himself building most of the homes and businesses in the Longwood area. Besides building E.W. Henck's second home, Meredith Manor and the Longwood Hotel, the master cabinetmaker and stair maker was one of Longwood's first alderman, taking office soon after the town's first election on December 3, 1883. He served several terms as alderman and was mayor of Longwood in 1885, 1889, and 1912. During this period he also ran a general merchandise store currently located at Wilma Street and West Bay Avenue (Longwood), with his son and Fred J. Miemyer, his son-in-law.
In 1892, Carlos Cushing and his wife Ella, sold the Lake Brantley estate and surrounding land to Swedish immigrants Axel Evald Sjoblom and Augusta Sjoblom (brothers). Born in Stockholm, Sweden, Sjoblom had arrived in Florida in 1882, finding work at Henry Sanford's hotel, saving his money and buying land for his own groves, packinghouses and a sawmill on old Lake Mary-Longwood Road at the south end of the Griffin ranchland.
Later, he planted 20 acres of citrus groves in Forest City, where another Swedish colony was established. An opportunity to manage the old Bents groves brought Sjoblom back to Lake Mary in 1886. A year later, he planted another 25 acres. Just before the killer hard freezes of 1894-95, Sjoblom's groves produced 6,000 boxes of oranges. He also was buying and shipping citrus from other groves. From 1890 until the freeze, he shipped 1 million boxes of oranges. After the freeze killed nearly all the citrus trees in Central Florida, Sjoblom began building houses. Many of Lake Mary's oldest houses were built with lumber from Sjoblom's sawmill.
Sjoblom means Lakes Blooming in Swedish. Axel Sjoblom would start Florida's oldest continuously operated chamber of commerce. The Lake Mary Chamber of Commerce has been in continuous existence since 1923. Others are older, but they have breaks in operation or changes in charters and names.
The family of Swedish immigrant Axel Evald Sjoblom can claim at least some of the credit for what we know today as Lake Mary and Forest City (OK, I know, Forest City isn't a real city, but it has its own zip code – 32714. Besides, Lake Mary didn't become a real city until more than 40 years after Sjoblom died.). The land around Crystal Lake was a tiny village among pines and palmettos in 1882 when Sjoblom arrived with the second wave of Swedes drawn to Florida by the lure of jobs and land.
Swedish entrepreneur Axel E. Sjoblom, recognized as Lake Mary's founder, built a small church in 1892 on Crystal Lake Avenue, just west of his store. The church served the growing Swedish colony near Sanford's Belair groves. Sundell and the Rev. H. Keigwan, a missionary with the Presbyterian governing body, organized a Presbyterian church in 1894 at Sjoblom's chapel.
Axel Evald Sjoblom's businesses laid the foundation for a new city. His later rival, the colorful Frank Evans, used his promotional talents to inspire others to work together to build a community. Both were skilled businessmen, but their personalities differed greatly.
Many residents have heard the story of how A.E. Sjoblom emigrated from Sweden to Sanford and mapped out lots on Crystal Lake, later to become Lake Mary. Now, people can read the story in Sjoblom's own words. Descendants of Axel Evald Sjoblom have found the pioneer's hand-written autobiographical account of his life in Sweden, his 1882 journey over rough seas to America, and his arrival by steamboat to the shores of Lake Monroe to work for early Florida entrepreneur Henry S. Sanford. To preserve it for future generations, the family has given the document to Lake Mary for safekeeping in a fire-proof vault in City Hall.
Lake Mary would not become incorporated until 1973, but without the pioneer efforts of entrepreneur A.E. Sjoblom, cattleman Mac Humphrey, and circus performer-turned-civic leader, Frank Evans, the land around Crystal Lake may never have become more than the tiny village among pines and palmettos. Margaret Sprout Green devotes much of her recent book, Lake Mary's Beginnings, to these influential men of the late 1800s and early 1900s.
He gave the community land he called "parkways" from his store and hotel and post office and railroad station on Palmetto and Crystal Lake avenues to the eastern shore of Crystal Lake. About 1916, he platted the city's first subdivision, first calling it Modern Woodman's Winter Homes. Later, he changed the name to Crystal Lake Winter Homes.
The winter freezes of 1894 and 1895 devastated the citrus crops. More than 90% of Central Florida's citrus trees were killed. It would be 15 years before the citrus industry fully recovered. Land values plummeted, and growers with mortgages were forced to sell at a loss. By the early 1900's the opening of a turpentine distillery fueled the city's rebirth.
Meredith Manor remained in the Sjoblom family for numerous years. Several Sjoblom children were born in the widow's peak of the home. After Augusta Sjoblom was killed by a mule, the family sold the home and moved to Church Street in downtown Orlando, where they ran a local hotel.
The third family to greatly contribute to the growth of Longwood is Robert and Inez Meredith, from whom the name of the home is derived. There is not much historical information available, but interviews between Inez and the Orlando Sentinel help to fill in the gaps.
Inez and her husband resided in the home where they were raising their only son. Shortly afterwards, Mr. Meredith was killed in action during World War I. She was emotionally devastated, but continued to live in the home and area for a great number of years Inez was not a socialite and certainly was no shrinking violet, but rather a pioneering demonstrator of the strength of women in her day.
She owned much of the land between Meredith Manor and Interstate 4. She ran a farm, a citrus grove, raised cattle and later created the local water company. Inez never remarried. Tragically, her only child was killed during World War II.
In the early 1970's, developer Everett Huskey purchased Meredith Manor and the surrounding land. He developed the Brantley Harbor neighborhood around the Manor and never platted the house as part of the neighborhood, keeping it separate and apart. Inez moved to a new home in the neighborhood located in the neighborhood (Brantley Harbor Drive and Cherry Hill Circle) and lived there until she died in March of 1979 at the age of 85.
The next owner was Dr. Roger Woods. Woods was a collector of antiques and greatly appreciated the craftsmanship and charm of Meredith Manor. Dr. Woods resided in the home with his two sisters until he relocated to an historical home in Tampa, where he currently resides.
In 1981, Meredith Manor was purchased by the Miranda family (now living in Coral Gables, Florida). The Miranda's raised their five children in the home and sold it in 1990.
Tom Lewis, Sr. and his wife Jane purchased Meredith Manor in November 1990 with the intention of restoring the home to its original grandeur. Unfortunately, Jane was diagnosed with breast cancer and passed away December 1992. Tom Lewis, Sr. was overwhelmed by the loss of his wife and the enormity of taking on the restoration project by himself. After a few improvements (vinyl siding on the exterior and the circular driveway), Mr. Lewis sold the home to his son, Tom Lewis, Jr. and his wife, Cheryl Lee in July, 1994.
Tom and Cheryl spent the next 10+ years painstakingly restoring, renovating, and updating Meredith Manor. They researched the history and have spoken to several of the previous owners. The Lewis' insured that all upgrades and improvements reflect the original period the house was built in. They used river recovered and salvaged heart pine wood and wanes coating, matched the window and door casings, and took every effort to keep her history alive.
Articles related to Meredith Manor have been written by the Orlando Sentinel (1979) and Longwood Lifestyle Magazine (2005). The Orlando Sentinel article hangs framed in the hallway of the home today.