Although I don't eat it nearly as often as I would like, maybe once a month, I don't need a reason to want sushi, I don't even have to be hungry, the answer to "do you want to get sushi" is always an immediate "yes!" My wife also loves the stuff, so when her birthday rolled around it wasn't a question of if we would have sushi but simply, which sushi place we would visit. This year we chose Nagoya Sushi as our celebratory venue and, as usual, our family of five thoroughly enjoyed ourselves.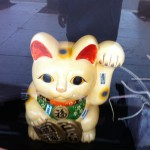 Nagoya has two locations, I believe the Dr. Phillips location, near Sand Lake Road on Dr. Phillips Blvd, is the original.  We frequent the Winter Springs location which is in the Publix shopping center on Red Bug and Tuskawilla. it is an unassuming storefront but the staff here are friendly, there is ample seating and the chefs are craftsman.
When you are hungry and in the mood to have it all, boats are the way to go and on this visit we chose the "Love Boat for Two."  The massive combo starts with soup and salad, my wife likes the traditional miso but I usually opt for the onion soup, a light and just slightly sweet specialty that contains a sprinkling of tempura crumbles for texture, a fantastic way to start a meal. The salads are standard fare though the house dressing keeps them refreshing.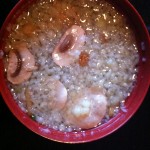 The boat features a mix sushi and sashimi, along with a spotlight stealing "Lover's Roll." The fish is always fresh, of course, and delightfully presented. I believe the selection is technically chef's choice but in the dozen times I've ordered the boat it has always contained the expected favorites; tuna, salmon, yellowtail, shrimp, conch, surf clam, escolar, octopus and maybe some whitefish. My point being that, while it makes for a delicious sampling, it is not an overly challenging selection. In fact, our two young daughters enjoyed a couple of pieces, along with their order of miso and a special treat, Japanese soda.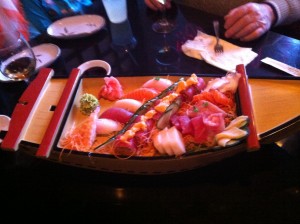 I am not sure what it is, exactly, that makes the Lover Roll so special, perhaps it is the spicy mayo or the crunch of tempura flakes, whatever it is, if one is not careful, the roll could easily turn lovers into fighters as they vie for the last slice. It is amazing. Their Volcano roll is very similar and, when coupled with another roll, makes an excellent lunch.
Most of my favorite sushi places have a non-sushi specialty in addition to their fish and at Nagoya that specially is the beef bulgogi. A Korean dish by origin, bulgogi is thinly sliced beef stir fired with onions and scallions in a combination of sauces. My father-in-law ordered the bulgogi and if we were not eating in public, I am pretty sure he would have licked the plate clean.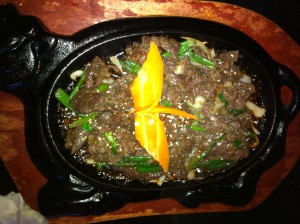 Nagoya treated us to birthday desert, an order of tasty fried bananas that capped off the meal nicely. Pricing is fair and moderate at Nagoya, with the three adults drinking wine, we were very well fed for under $100. They also offer a monthly discount via email newsletter which usually takes another $15 off the total.  There are many things I like about living in Winter Springs and being close to Nagoya Sushi ranks high on the list.