I have been to a couple of shows at the Pinocchio's Marionette Theater at the Altamonte Mall over the years, but this time my two daughters (ages 6 and 3) were invited to a birthday party at the theater, the party included watching a play and having a cake in the party room. Our admission was free as party guests, but, for walk-ins, it is a very affordable $6 charge…I was surprised that it only went up $1 since my visit two years ago.
We were greeted by the party host and had a few minutes to spend in the party room before going into the show. At the ticketed entrance, the owner greeted everyone and showed us into the performance room. It is an intimately sized room with seats for the little ones in the front and with taller, adult-size seats in the back. The room itself is dominated by the hues of red, which immediately gives you an impression that something special is about to happen.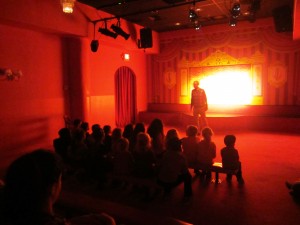 The puppet musical that we saw, Jack and the Beanstock, was a perfect length show, lasting about 40 minutes, and even the youngest patrons were able to enjoy it without being distracted. For the ones who couldn't quite sit still, the seating arrangement allowed for spilling out on the floor and moving about a little. The show was witty, visually and musically engaging, and even had a joke or two that set the parents to giggling.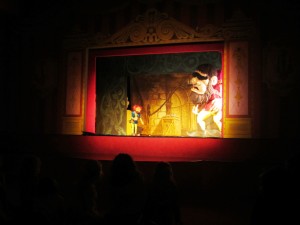 After the performance, we were able to enjoy the party room that was painted in an array of upbeat colors with strings of light hanging from the ceiling. Certainly a festive atmosphere! I cannot speak of this experience from a party host's point of view, but it was enjoyable to me as a guest.
On the way out, my girls passed by a kids' area in the front of the theater, the area includes an interactive stage with a few puppets which the girls used to make their own 5-minute pretend show, a fun bonus. The theater is located in front of the mall playground and on the way out, my girls had a great time playing there for a good hour. All in all, a nice afternoon with my kids, I will be checking to see what show they will have next…the rumor is it will be The Little Mermaid in the summer, should be a hit with my girls!