As a previous resident to the popular city of Miami, I've had the luxury of sampling an array of amazing Latin food, with an emphasis on Cuban cuisine. Since residing in Orlando I can honestly say I never miss the busy world that Miami has to offer, but I do frequently miss the food.
That is, of course, until I came across the family owned and operated business of Rice and Beans Cocina Latina located in Waterford Lakes on Alafaya Trail.
Rice and Beans is a little hidden gem among the big chain restaurants surrounding the Waterford area. Walking into this brightly colored café-style restaurant, an aroma of what can only be described as homemade Latin cuisine fills the air. As the accompanied upbeat music plays in the background, I shimmied toward the front counter to order my meal where a selection of steaming meats and sides are displayed. After much consideration – there are so many delicious looking meals to pick from – I ordered the Camarones al Ajillo – garlic shrimp – from their dinner menu. The meal comes with two sides and a house salad, though they do advertise a lunch special (for half the price that runs for $6.89, from 11 AM to 4 PM).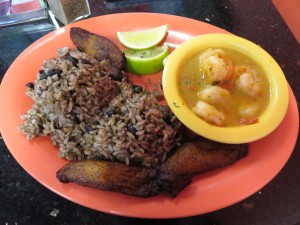 Feeling adventurous I ordered the recommended bottle of Merengue Soda, or cream soda, which tastes nothing like I've ever tasted before in a soda. It was amazing! They do offer regular fountain drinks, water, and a variety of bottled beer.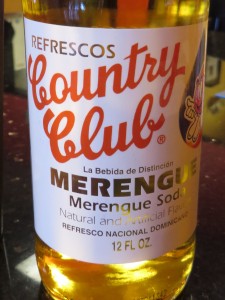 The employee who took my order advised me to take a seat wherever I wanted and proceeded to serve me my soda, salad, and dinner in a timely manner – very much like any sit down restaurant. All employees are very attentive and courteous, and it's clear that many of them know each and every customer who walks in to order food.
Out of curiosity I roamed over to the other side of the restaurant, which has a completely different feel to it – almost like night and day. The décor is dark, modern looking, and has a romantic feel to it. It didn't appear open, but there were three men sitting at the bar enjoying a drink, so I assume if you want to sit at the bar during lunch then you are able to do so. An employee later informed me that at night they open up the other side for live music and a sit down dinner. I took a peak at their Facebook page and the nighttime festivities looks worth attending. They also have private parties, small or large, and catering, thus making this a perfect location for any of your needs.
Rice and Beans by far seems to be a community favorite. It's evident after watching the interactions between employee and customer that there is a strong emphasis on customer appreciation. It's a great place to frequent for a taste of homemade Latin cuisine, whether dining in or taking it home to the family, and I would highly recommend trying it out for anyone who has passed by but not yet been explored the inside.
Rice and Beans – Waterford Lakes
504 N. Alafaya Trail
Orlando, FL 32828