The Rusty Spoon, located on Church Street in Downtown Orlando, is a wonderful place for a good, fresh meal. The atmosphere alone is worth experiencing at this choice eatery. The restaurant is split into two separate areas, the bar area and the dining area, an outdoor patio is also an option depending on the weather. A good ambiance is key when going out for a nice dinner and The Rusty Spoon definitely knows how to set the right mood.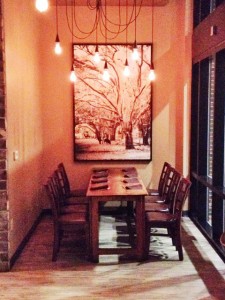 Long, dangly lights hang from the ceiling and they are set dimly to create a very intimate dining experience. Photographs of fresh fruits and vegetables are hung up all over the restaurant, as well as interesting shots of farm animals. These photographs showcase The Rusty Spoon's mission to only serve fresh, Florida grown products. By only using fresh ingredients in their dishes, the flavors and display are above any establishment that serves frozen, processed products.
The flavor from each bite titillates the taste buds making for a very happy mouth. Original and different concoctions make up their menu, which makes for a tough decision when choosing the right dish. "The 55", which is a burger stuffed with bacon and gruyere cheese and is served with their special "haystack fries," must be tasted to be believed. Even their desserts are different and homemade ranging from a homemade snickers cake to homemade donuts stuffed with chocolate chip cheesecake. Each menu item is completely different than the other, which makes a return trip necessary and equally exciting as the maiden voyage.
Anyone who decides on The Rusty Spoon surely won't be disappointed. The great atmosphere and the even more delicious menu items make for a great night out whether it's for a hot date or just a group of friends getting together, making The Rusty Spoon a must for anyone who appreciates a good meal and an even better night out.
The Rusty Spoon is located at
55 W Church St
Orlando, FL 32801.