With one embarrassing exception in my early 20's, at a Pleasure Island bar, I have not put on roller skates since disco was the hot new sound and even after my second trip to school skate night, my streak is intact. I did, however, escort my daughter to the Semoran Skateway for her annual school-wide get together. She had a wonderful time skating, playing the hosted games and chatting with friends,  as did most of the other kids, and many parents, despite the plethora of cringe inducing falls.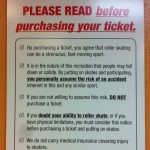 There is no doubt about it, roller skating is dangerous, as the multiple signs posted at the entrance attest. However, as one parent, a nurse, explained, kids are resilient. This is  not exactly encouraging for a worried father but sure enough, in the handful of times I've been to the rink since becoming a parent, the kids have always sprung right back up after falling, in fact, I don't recall witnessing a single tear being shed despite seeing limbs bent at seemingly impossible angles.
After last year's trip, my daughter fell in love with skating and has been getting plenty of practice at home. So, at this year's outing,  she sported a beaming smile the entire night, spending most of the evening out in the main rink. Her no-fall record was a modest two orbits but this was still a bright spot for her. They also have a smaller practice rink at the Skateway which is where we spent our time at last year's trip, it was very helpful at incubating her desire to pick up skating.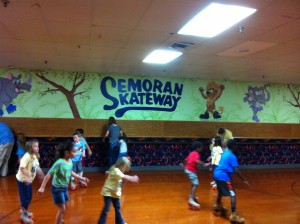 Semoran Skateway also has the usual assortment of video games, a pro shop of sorts, a private party room and, perhaps most importantly, a snack bar that still serves up that classic roller rink beverage, the slush puppy. You will also be treated to a great mix of music, with some modern songs, a few cherry picked hits from the 80s & 90s and a healthy dose of the same tunes they played back when I skated, I guess roller skating and disco just go great together.
The rink is tucked back a half-block off of 436 and in heavy traffic can be difficult to get in and out of. I would like to see a bit more walking space around the west side of the room, you  end up going single file if you take that route. Overall though, this is the kind of place that puts a smiles on faces without putting much of a dent in your wallet (non-skating parents get in free.)
For classic roller skating and family fun, I give Semoran Skateway 8/10