I'm not exaggerating as I write this by stating this is the third time I've attempted reviewing Sweet!. It's not because I dread writing reviews, or because I had better things to do. It's because Sweet! is busy every hour of every day – to the point of insanity! Depending on your threshold for excited, "high on sugar" children who occupy most of the space inside of Sweet!, their popularity among the youngsters and parents will either be enticing or discouraging. I suppose it also depends on how much you love cupcakes too, because if even the slightest part of you enjoys cupcakes, you must venture inside for a taste of Sweet!.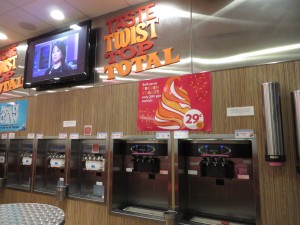 Sweet! is set up like any other frozen yogurt shop: booths on one side, high tops in the middle, and frozen yogurt with accompanying toppings along side the other. Now journey with me if you will past the booths toward the back where a variety of 30 flavors of cupcakes – a mixture of mini, classic, and original sizes – await you. By the way, I wish you luck with picking just one! Thankfully Sweet! specializes in mini cupcakes, so there are plenty of flavors to sample without feeling like you're over indulging, and all at an affordable price. A box of four runs for $6, and every Monday Sweet! runs a special on their minis for just $1 each! For the quality, you can't beat the price. If you find that you're unable to make it on a Monday, and $6 just seems too much to spend on dessert, venture over to their website and join their Sweet Treat Club. You'll be thanked by receiving a coupon for two free cupcakes of your choice.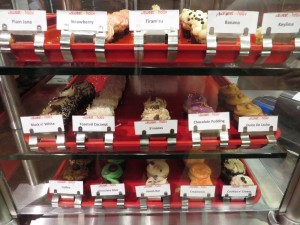 Unfortunately, I wasn't aware of the Sweet Treat Club – you're welcome by the way! – so I paid the $6. I purchased Chocolate Mint, Coffee, Key Lime, and Peanut Butter. All four were undeniably delicious but if I had to pick my favorite it would be the Coffee, made up of chocolate cake, coffee buttercream, caramel shards, and an edible espresso bean on top. Even with the small size, the center of each cupcake was remarkably moist. It probably helps that the store's creator, Hollis Wilder, has competed on Cupcake Wars on the Food Network – and won… twice.
Sweet! offers custom orders, catering, and online ordering. And though I complain about the busy traffic inside, I will of course be going back to try four new ones until I've tried them all.
You can find Sweet! in Waterford Lakes or in Jacksonville.