"I'm bored" cried my three year old daughter, "can we please go to chocolate park?" While I still had a pile of work on my plate, I could not deny the polite plea. Chocolate park is her nickname for Winter Springs'  Trotwood Park, which is located just off of Tuskawilla road and is a great neighborhood park.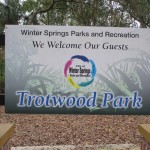 The highlight of Trotwood is probably the medium sized, multi-featured splash pad, though it is a seasonal feature. Even with a pool at home, my girls love going to this splash pad. Residents of Winter Springs can get a season pass to the pad for free while non-residents are charged a $3/day entrance fee.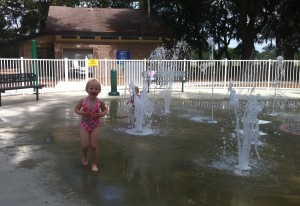 Bordering the splash pad are two playgrounds, one geared toward toddlers and another that seems to be aimed at, oh, say ages 5-12. There is also a swing set here that includes a special big green swing that kids of all ages seem to enjoy.
There are several sporting opportunities at Trotwood park, including some very popular basketball courts, which always seem to have a pick-up game going. There are also racquetball and tennis courts which are in good shape and generally uncrowded. The park also has softball and soccer fields, which host  league games on the weekends. Rounding out the sporting options, there is a small batting cage that is also quite popular.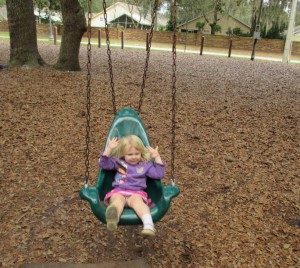 My personal favorite features are the two small ponds, both of which hold fish, turtles and host numerous birds. The larger pond, located near the playgrounds and splash pad, is accessed via a small pier which is nearly always surrounded by wildlife. Whether we are bird watching or feeding the fish & turtles, or wetting a fishing line for that matter, a quick walk on the pier caps most of our trips to Trotwood park.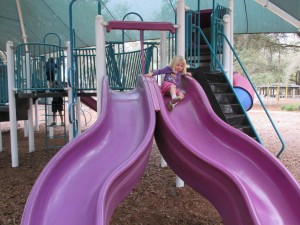 The park also has pavilions for rent which makes it a popular celebration venue. There are bathrooms, ample parking and there is usually an attendant on the premises. If you are in the Winter Springs area, a stop by Trotwood park is always a good time.
Trotwood Park
701 Northern Way & 1224 Trotwood Blvd.
http://www.winterspringsfl.org/EN/web/dept/pr/cityparks.htm