What a season!  UCF took a story straight out of the books.  Even as a delusional die hard fan, I didn't expect this type of a result.  I figured 9-3….maybe a 10-2 season would be a big success, so as soon as Cincinnati lost, and UCF clinched a BCS bowl bid, I was ecstatic.  The options of going to the Sugar Bowl or Orange Bowl were within reach.  Then disaster happened…..Northern Illinois lost and UCF was slotted for the Fiesta Bowl in Glendale, AZ some 2,000 miles away.  The initial sticker shock of plane tickets had me very leery of going, but I've been waiting for this day for a good twelve years, and wasn't going to let it slip away.
With work schedules, we could only afford a very very quick there and back trip, so flew out at 10am the day of the game…..and back that very night at 1:30am.  The ultimate "stupid things you do for sports" story.
We arrived in Phoenix at 12:45, and were immediately met with good fortune.  I got an insane upgrade at the rental car counter.  I booked with a cheep-o car company, Sixt, and all they had available was a Mercedes-Benz. Off to a good start.
To kill a little time before we went to the stadium, we checked out the Desert Botanical Gardens.  It was a 10 min car ride from the airport and a interesting little experience if you have never been to the desert.  It was a tad pricey to get in ($22/a person), but I would say well worth it.  They had a special Chihuly Glass display that was very impressive, and kept my Wife's interest because she's an amateur photographer.
After our pit stop, we were off to the stadium. I was without all of my usual tailgating attire, so we did a pit stop at a gas station to get some local beer (Four Peaks) and some burgers from In-n-Out Burger (amazing as always) and headed in to the stadium.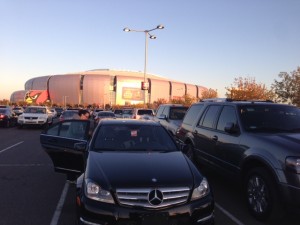 Getting in and out of the stadium was an absolute breeze.  I pre-paid for a parking spot next to the stadium, and the highway system in Phoenix is as basic as it gets. We met a couple local people that go and tailgate to every Fiesta Bowl game.  They didn't know much about us, but wished us luck and promised to be rooting for us.
Overall, the tailgating was a pretty big dud, compared to a normal college game.  The stadium has very strict rules, that don't allow for charcoal grills, drinking games, or loud music.  The Fiesta Bowl had their own tent parties set up.  One cost $30, and got you 1 drink and some very questionable food, the other cost you $100, and got you 7 drinks, and some slightly less questionable food.  The worst part of all, was that fact UCF was out numbered 4 to 1 by Baylor fans.  So my cocky UCF fandom had to stay caged.
Once inside the stadium, you saw the excitement start to build.  UCF fans were starting to group up in our section and beer was definitely flowing.  We had the privilege of sitting next to a group of guys that showcased the 3 stages of drunkenness (Loud and obnoxious, drunk denial, quiet and sleepy).  The rest of the night was history.
The best part of any win, especially when it's a huge upset, is seeing the faces of the opposing fans.  We got to see many of those in the Phoenix Airport that night while waiting in the extremely long TSA line in the very crappy Phoenix airport while being very exhausted. Any other day, that would have sucked.  But that night it was pure icing on the cake.