Wa Sushi is a fantastic new Japanese restaurant located on the Casselberry/Winter Springs line. Freshness is the speciality of the house and, on a recent trip, so was bluefin tuna! Dishes at Wa are presented with gourmet flair but priced for the budget conscious. Just two months old, Wa has already become a staple lunch stop and favorite family night out restaurant for many locals, my family and I included.
I made my first trip to Wa with my family a few weeks after their July opening.  I ordered the eel dish, Unadon, which is pieces of eel, drizzled with house eel sauce, served over rice, it was savory and delicious. My wife had the sushi combo plate, the selection was pretty standard but the fish which was spectacularly fresh and tasty.  My daughters enjoyed a sampling from our plates plus some exceptional miso soups. We all loved it!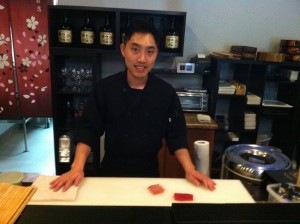 Soon after that first trip, I returned to Wa for a lunch meeting and ordered the Tuna 3 Ways. I spoke with Hong, the sushi chef, who explained that, earlier that morning, he had the opportunity to purchase some bluefin tuna and he would be using that bluefin to prepare my dish, at the regular price  of $11.  Score! The dish is comprised of a spicy tuna roll, 3 pieces of tuna nigiri and several pieces of tuna tataki.  My mouth is watering as I recall the dish, it has a great variety of flavors and textures, tied together by the succulent tuna. The upgrade of having Bluefin tuna made the meaty fish even richer and more buttery than normal.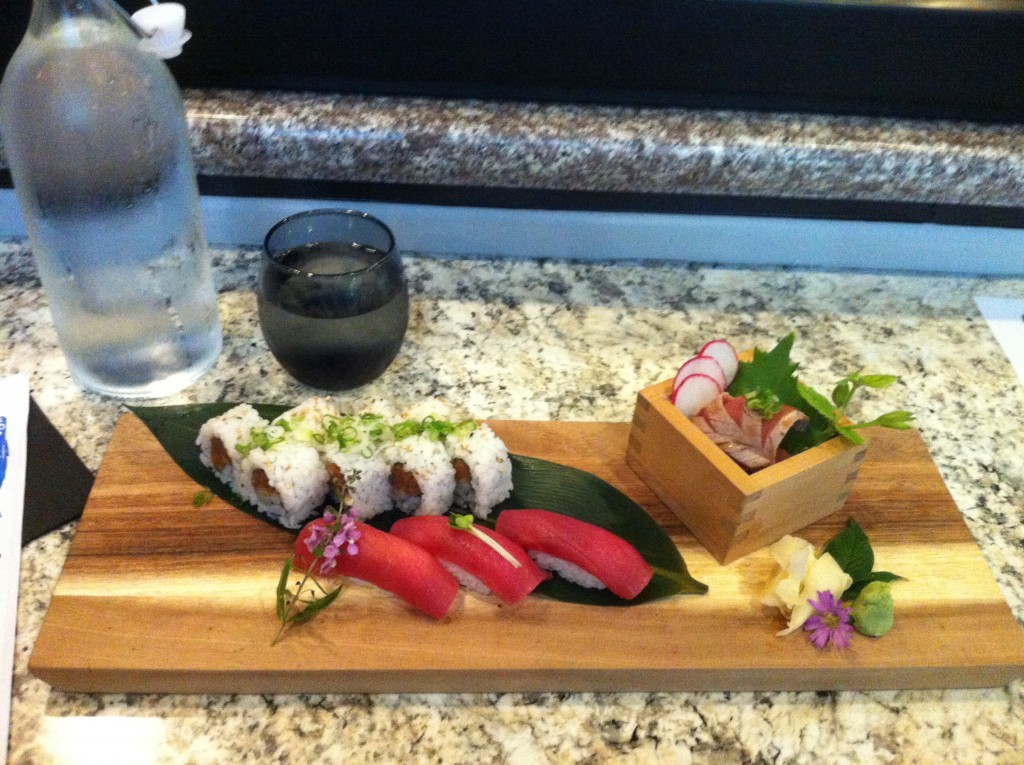 Wa Sushi also serves a variety of Japanese favorites, including noodle, teriyaki and tempura dishes. They also serve exotic sakis, both hot and cold, and other refreshing beverages. My palette and I look forward to exploring the full menu!
The service is exceptional at Wa, the restaurant hosts a stylish and pleasant room, with just a handful of tables and a sushi bar. The wait staff are prompt and knowledgeable. They have also been quite generous at Wa, offering free tastings of saki and various other complimentary perks for early adopters.
Wa also controls the shop immediately next door and they have plans to start teaching different cooking classes, including sushi making, in the space later this month. I imagine the space can also be used to host larger events, though I did not confirm that with the owners.
When I first posted to Facebook that I was eating at Wa I received several comments asking "how is it? I've been curious since they opened" comments. I highly recommend putting Wa on your list of things to do this weekend, or, better yet, go feast on some fresh fish and cold grapefruit saki right now!
Wa Sushi
1285 Semionola Blvd.
Suite 121
Casselberry Fl 32707