If you live in Orlando, there is a good chance you'll entertain visitors. Living in Florida can make even the blackest of sheep popular. Mid-April snow works wonders on family resentments.
But Orlando is so much more than the area surrounding the Disney Empire. The trick is convincing our beloved interlopers of this. It's good for the soul to steer people away from pre-packaged corporate experiences. Give your peeps a break from the fabricated foam characters and show off the beauty and history that Orlando has to offer instead.
Winter Park Scenic Boat Tour (established in 1938, before they thought about things like branding and just named things for what they were) is an inexpensive, hour-long tour of three of the seven lakes in the Winter Park lake chain. It's very chill and you'll learn something about the history of Rollins College, the Winter Park area, and some of the more colorful personalities that have stopped by over the years.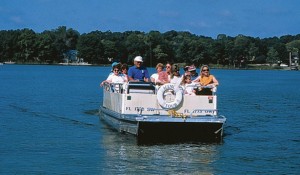 The lakes are scenic (obviously), and there's always a fair bit of fauna about – although I have yet to spot a gator. I've been on the tour three times now and I have yet to be bored by it. Mainly, I find it to be a relaxed way to spend time with someone and take in the glory that is Mother Nature. There are also a multitude of massive homes on the lakes, which can be interesting for some. Many of the homes have great stories attached to them and you might be surprise by a few.
The tour leaves from Downtown Winter Park, which makes it a nice addition to lunch, shopping on Park Ave., or maybe the Morse Museum. Do it right and you just might keep the Mouse at bay for another day or two.
Winter Park Scenic Boat Tour
312 East Morse Blvd.
Winter Park, FL 32789
407-644-4056
Monday-Sunday
10:00 a.m. – 4:00 p.m.
Adults – $12.00
Children (2-11) – $6.00
Under 2 Years Old Ride Free
Website: http://www.scenicboattours.com/
Photos from:  www.facebook.com/pages/Winter-Park-Scenic-Boat-Tour/398915930497