Irina was born in 1976 in Latvia, where her paintings have been displayed and well received in numerous shows and galleries. Irina came to Orlando, Florida, in 1999, and now makes her home there. She has been presenting her work at several local and European galleries and art shows. Irina combines her artist's career with teaching art to high school students in Winter Park, Florida.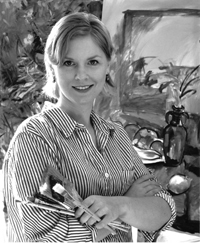 Irina achieved noteworthy success as an emerging fine artist on Sothebys.com. Her auction sales records are listed in the prestigious MAYER 2000-01 International Auction Guide (renamed Artprice.com since 2005), which is a must in order to be considered by serious collectors. Prices for her artwork continue to rise, providing exciting investment opportunities for fine arts collectors. Irina's paintings are collected worldwide and are displayed in galleries, corporate offices and private homes in the USA, Europe, Asia and South America.
Working mostly with oils, watercolors and acrylics, Irina experiments with different genres, including still life, landscape, portrait, and figure. A vast majority of her large and long-term work is done in oil as she enjoys this medium the most.
Back to the Artwork by Irina Gallery |  Visit Irina's website | other work we are curating: